QuickPixelizer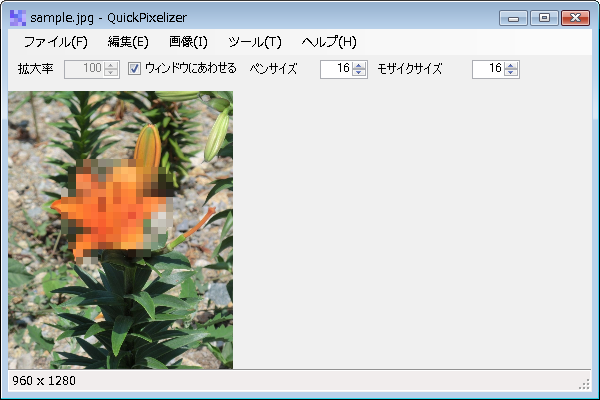 About the tool
A tool to pixelize part of an image file with easy operation.
You can hide objects such as a human's face in a photograph.
Download
Feature
Pixelization size is freely changeable
Borders of pixelized area are adjusted according to grid
Undoable operation
Resize, Rotation, Flip
Automatic direction judgement using EXIF information
Environment
OS: Windows XP and above
Necessary component: NET Framework 2.0 Runtime
How to install
Unzip the zip file.
How to uninstall
Delete the unzipped folder.
User settings are saved in the user's application data folder. Delete them if necessary.
The path is shown below.
C:\Documents and Settings<user name>\Application Data\QuickPixelizer (Windows XP or below)
C:\Users<user name>\AppData\Local\QuickPixelizer (Windows Vista or above)
How to use
Select "File -> Open" in the application menu and open an image file. The selected image will be displayed.
Press the left mouse button and drag over the object you want to pixelize.
Select "File -> Save as" in the application menu to save the pixelized image.
History
September 7, 2013
version 1.0.0
License
BSD license is applied.
See LICENSE_en.txt for detail.
---
Copyright © 2009-2017 recyclebin5385 All rights reserved.
Generated by webgen